Discover more from Stoic Observations
Discovery, humor & reason without ideological baggage.
Over 3,000 subscribers
An Open Letter to Sniveling Negroes
Originally December 2014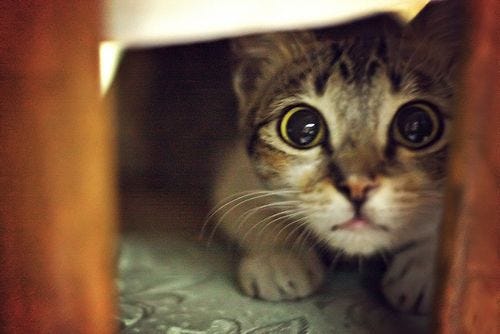 Once upon a time, the United States of America was full of Negroes. America had a problem. It was the Negro Problem. It was characterized by a relatively complete failure for the Negro to gain an appreciable foothold in any of the nation's mainstream institutions. He couldn't be educated, he couldn't be drilled, he couldn't couldn't make profits because by and large he was segregated out of universities, armed forces and businesses. Along came WW2, and America changed profoundly in the way it saw the world and the way the world saw it. And because war is a good reason to kick a lot of nonsense to the curb, some of that nonsense of segregation was indeed pushed back. The Negro got a taste. Now the Negro was never far from a complete understanding of what America offered. He was always in close proximity to successful Americans. The Negro was America's housecat. He was fed but he was feral. He was never considered an equal, except by eccentrics. More importantly, he wasn't considered an equal by himself. He wasn't sure if he was a man or a pet. The war changed some of that. The reality of humanity interposed itself and the preciousness of life and freedom became obvious. The uncertainty and dual consciousness of man and pet was illuminated. Negroes became men. 
This history is surely familiar to you and I won't belabor it long. The point was that this man and that man had the nerve to stand up and fight, undaunted by hard times. They did so to put their best foot forward, to live free and shine in the light of liberty. Well that sounds all fluffy but the fact is now millions of Americans have backed themselves right back into the heart of dual consciousness. They are now obsessed by the death of two black suspects, one in Missouri and  one in New York, and have taken these deaths as ominous portents of the fate of the Negro in America. Once proud black Americans have let the little Jim Crow in their heads take over their personalities and whip them into submission. Now they are not sure if they are pets or men. They're certainly not acting like men.  I've had it up to here.
Just yesterday of my best friends said the following: 
Approximately two decades ago I got into an argument on Usenet (soc.culture.african.american--scaa for short), about police, black kids, and the talk. The brother I argued with suggested that the best thing to teach black kids was NOT to be deferential to the police. I thought this was foolish and that following this advice would likely get his kid killed. I don't think I had kids at the time but definitely didn't have sons.

I've got sons now. But I've done a 180--I now take that brothers position. I guess it boils down to this. If it really doesn't matter, then what values do you want to represent when you go?
I have decided to become an irascible asshole about this spate of black paranoia, because my sensitive friend Lester Spence has become infected by its cowardly poison. It is ironic that this demonic possession of fear, I say again FEAR, has gobbled up whatever common sense, perseverance and motherwit we used to associate with the Negro race. But it is clear that the lot of you have lost your minds and now tremble like autumn leaves at the prospect some white man might lose his mind. And so your fear of his presumed fear of you has made you both into idiots ready to lash out like cornered animals. I'm disgusted. Thoroughly and totally disgusted at this shameful regressive display. The very idea that the sons of tenured professors "ain't goin' out like that" and are prepping themselves for suicide by cop in a blaze of retarded glory are the wet dreams of Willie Lynch. For what? I spit on the graves of suicides. They are murderers of the self, and there is no greater example of self-hatred than that. Except this goes one step further to terrorist suicide. A plan to intimidate millions in an act of self-sacrifices that blames the other man. I've see a lot of bullshit walking in my life, but this is bullshit at the speed of light. 

If it has to be that those who would call themselves black in this country would sink so low, and be seduced and then obsessed by every freak accident social media can blast, then Carter Woodson is doing back somersaults in his grave. Are you all so desperate for identity that you will line up in unity behind every tragedy spewed in your direction? Are you literally chasing ambulances? You have become a cult of death, letting it seep into your bones and affect your daily routine. This dead man means everything, you say. The man you never saw, never knew, never cared about until his death confirmed your deepest, darkest fear. And now fear dominates your spirits. You faithless wankers! 

I'm not going away. I'm not defriending. I'm going to stand tall and berate you until you come to your senses. I only hope I don't become exhausted. But every fresh morning when I hear about how this dead man seals the Negro fate, I puke all over again, and you're going to smell it and remind you that I don't buy that weak sauce. I don't know about any of you, but my grandfather was an orphan and my grandmother survived polio. They got married during the Great Depression. That's where I come from. Steel. And once upon a time in America, that kind of steel mattered, and it didn't need hashtag activism. It lived, and it loved, and it raised children. It didn't whine and complain and obsess and have its composure destroyed by the death of one man no matter how dubious he or his killer were. And it sure as hell didn't reprogram its children in reactionary paranoia. They knew how to live, and by God it rubbed off on me. So if you're going to listen to every halfwit reporter on the death obsessive news, you're going to listen to me too. 

Get a grip. Turn away from death and live!
—-
Afterword
This morning in July of 2020, an old friend reminded me of this essay I wrote excoriating black fathers for teaching their sons to fear police and to confront them as if their lives hung in the balance. I immediately remembered what she was talking about. I wrote it having witnessed another friend of mine arguing against 'deference to the point of submission' in favor of 'indignance to the point of hostility'. This was during the followup to the burning of Ferguson, MO which I used as a reference many times. In fact, I think it's useful to take the following context from my first essay on Ferguson.

It goes without saying, although people would try to blame me for not saying, so I'm saying it up front, that police brutality is a crime, and a wrongful death in police custody seriously retards faith in democratic institutions. But then I think it should be equally obvious that some of these small backwater towns are institutionally bankrupt and the people know it. That doesn't get 20 million tweets or any competent attorneys from our top law schools interested in improving the quality of municipalities in Missouri. Nor does the hopelessness of the locals impel them to load up the truck and move. You'll hear all over the interwebs what a crappy place Ferguson, Missouri is in perfect clarity as if this killing were the perfect storm everyone saw coming over the horizon. Yeah but you didn't evacuate. 

No man is an island and every man's death diminishes me. But rather like gravity it diminishes with the square of the distance. Socially, politically and physically that place is a long way away and no amount of echoes in the media is going to bring it closer to me. Aside from that, I'm supposed to be an independent thinker; well, I am. What strikes me this week, is how we really don't know what's boiling on the inside of people's heads. We don't know about cops, we don't know about robbers, we don't know about comedians or actresses. We just remark a lot when somebody dies.
My emphasis today, as then, is on local control. This is from the comments of the original essay.
I'm aware of the black NYC cop outreach. I think Spence would argue that they were promoting 'deference to the point of submission' whereas he would promote 'indignance to the point of hostility'. My gripe is with the political agitation against police as a matter of course in the name of black politics, and the amplng up of a false sense of insecurity. Or, to quote Flava Flav, "I got a right to be hostile, my people have been persecuted'. No. You have an obligation to support reform by appealing to the bosses of the police, and their bosses. That entire process might be broke in Missouri, and so I say the burning of Ferguson was a good thing. But that's isolated and unique - the egregious exception that proves the rule, not the tip of the iceberg.

I said this before elsewhere, but let me repeat it for the record here. Everybody who has real experience in politics, government and law knows that what's broken in Ferguson could be fixed quick fast and in a hurry if America's better folks left their jurisdictions to go to Missouri. People who understand prosecutions say that the DA served up the exact wrong kind of sandwich to the grand jury so that it wouldn't hand out an indictment. Why? So he wouldn't be responsible for prosecuting the cop in question. He is politically unaccountable and will not be removed from office. That would be political suicide here in LA. Like I said, all the experts are aghast at that incompetence. But people are not going to leave their better jurisdictions to go fix what's broke in St. Louis County. That doesn't mean America is broke and the black Americans need to wholesale rethink their relationship to police, and anybody who says so is peddling bullshit at the speed of light.
I have since considered at length the devolution of democratic institutions and leadership in the US, it has had a number of consequences on my thinking and writing. I interpret this broader failure primarily as one of lousy leadership and stupid partisanship which is entirely capable (which I didn't quite believe then) of perverting the intent and purpose of government. Locally, police are getting screwed by sniveling pols. Police officers are the important, but low men on the totem pole of the Justice System. The are the key blue collar workers that the Progressives of the Democrats have disowned. I don't know how it could be more obvious, and yet it is not.
Police are working class. Deplorables, right?