Discover more from Stoic Observations
Discovery, humor & reason without ideological baggage.
Over 3,000 subscribers
Election Scenarios
Predictions! Get your political predictions here!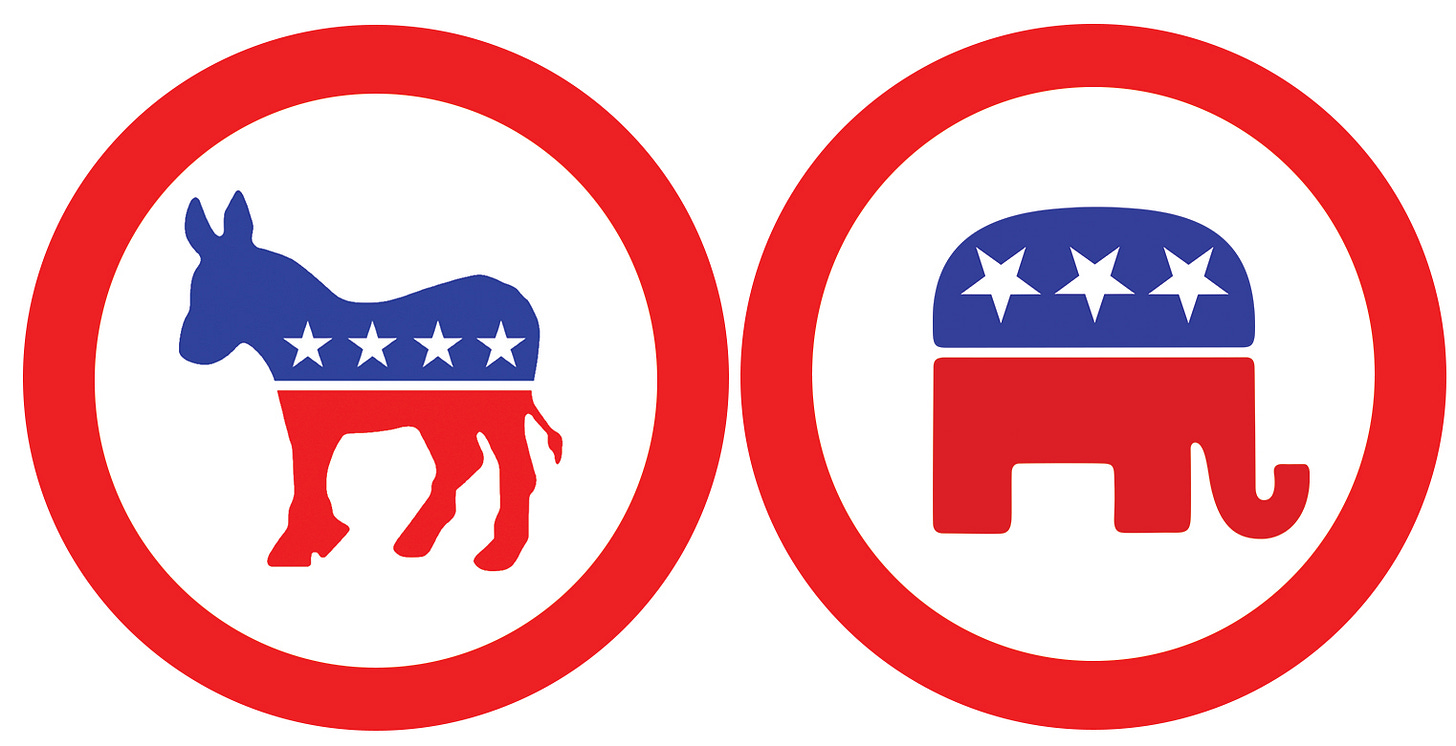 I spent an excruciating 4 hours in a book club the other day. The serious lot of us, all looking to bathe in the salve of rationality, attempted to make sense of the philosophical roots of the Woke Mob. For a number of reasons, some technical, some driven by personality and some inherent in the complexity of the analysis of philosophy, it was very frustrating. For a moment there, I almost lost my sense of humor.
It was easy to regain that after eating the Spousal Unit's crabcakes and homemade tartar sauce while watching Jamie Foxx rescue his daughter from a collaboration of crime families and corrupt government officials who wanted to use her blood to disrupt and take over the planet. Whenever I become unsure of something, it helps me to know the simple rightness of a tasty meal and the simple badness of aspirations to global dominance. I slept well.
This morning I stumbled onto a sweet and concise analysis of a panel of bright people I respect working over the same problem. What exactly drives this distributed gang to seek to overturn the moral framework of American life? Is it because they are postmodern and inheritors of the genius of Foucault? Is it because they are Millennial and broke? Is it because they are psychologically broken? At peril, in case you haven't noticed, is the fate of middle class morality. They have assaulted the Enlightenment values and they are generally making a mess of our heretofore establish rule of civility and order.
This is a complex, dynamic and mind-bending set of questions I haven't been able to fully list let alone answer, but I'm not in the dark. Neither should you be. That is because in the end we're going to have to come to some accommodation or we're going to seriously consider The Ten Duel Commandments. Most disputes die and no one shoots, but don't get caught without your pistol, a second and a medic. Which brings me up quickly to the present. It comes as no surprise that the President, despite his ham hands, is able to push our buttons. Our buttons in this hungry electorate are large and obvious. In this instance he is issuing an executive order against the sort of struggle sessions that might be on the agenda of chief diversity officers in any and all federal agencies. This will ratchet up the culture war. And since, in this particular moment there is no effective third way, despite the disproportionate size of our excluded moderate middle, Americans will be forced to pick sides. The duopoly of the parties will remain because, let's face it, we'd all be happier simply choosing between good and evil.
So I'll tell you what makes the most sense to me. It makes the most sense that someone with a lot more youth, vigor and charisma than Bernie Sanders will be poised to take control of the ragtag Left and repaint the Democrats pink, after this election. Ultimately they may end up as Reds, as in Marxists, and they will be absolutists. This is the dream coming true that some fraction of the American Left really wants to see. They want to see the real socialism that never really has been tried before. They want to kill all of the billionaires. They want to punish all of the straight white men. They want to suffer the Boomers. The perfect irony is that Biden-Harris will be candy coated shell, but the fuel and the engine will be the woke mob. The inherent problem is that, as far as I can see, none of this inexorable revolutionary spirit can cohere on anything but a Marxist chassis. So that means the duopoly will require a lot of Enlightenment liberals to abdicate their warm and sunny dispositions, don the asbestos suit and go Right young man, go Right.
I cannot see anyone like John McWhorter side with the Pink Democrats, and I cannot see anyone over 50 now holding power in the Blue Democrats resisting the avalanche of Woke potential energy that has been piling snowflakes on our academic mountaintops for the past 20 years. So what you should expect is a new set of Reagan Democrats - blue dogs that will be forced to hunt for the other team. So will that team be Trumpy? It really depends on whether or not he wins this November.
So that leads me to some political speculation. But before I engage in that, I want to remind you that no matter which way these deck chairs are rearranged, our responsibility in civil society is to remain defenders of moral courage and sociability - those things that cannot be affected by putting one or another political party on different footings. We are going to have to re-integrate ourselves into society despite what people in and responsible for these new regimes think themselves to be. For egregious example, if the New Tiki Torch Party (you know who they are and who they think themselves to be) seats another Senator in Congress, you in the civil society will not change your behavior or commitment to civil society. So, with that said, off to the races.
Trump Loses - Democrats Stay Blue
Elephants: Since there is no Reagan on the Right, there is no particular place I can see for a soft landing if Trump is defeated. The Enlightenment Liberal Republicans and conservatives will have to up their game to appropriate the Trumpist Tories. They'll have a chance at the GOP majority. So far as a one term Trump is concerned, easy come easy go. As easy as Nixon. These GOP remainers will need even more intellectual firepower concentrated against the Progressive front that will be gathering power slowly on the Left.
Donkeys: Oh happy day. The normie Blues will crack open the bubbly. While they're cleaning house and re-establishing 'normalcy' in DC the angry Woke Mob will turn on them because, where is our Basic? It will be like MLK vs Stokely Carmichael all over again. Civil society will not be enough for those demanding Woke Power. Biden will be incapable of stopping the bad economy and the bad pandemic, and there will be no bad Orange Man to blame, for long. Government stimulus will be the gateway drug to democratic socialism.
Nevertheless, our international esteem will rise and some kind of sensible foreign policy will be jawboned. Harris will be tasked to smile, wave and blow kisses to all of our Eurofriends and global neighbors. Obama will say something nice to bless this arrangement.
Trump Loses - Democrats Go Pink
Elephants: If Biden fails to curb the Woke Mob by producing some ineffable rabbit out of his hat, or by some massive self-destructive act of said mob, it is more likely that they will continue to act out and establish a greater beachhead. Trump will exit peacefully but utter the unutterable on his way out. Nobody better take him seriously, because once he loses the office, he loses everything.
Donkeys: The Democrats face the choice of putting 'social' into more of their verbiage and that means 'socialist'. There will be some articulation of sorts that will bind together all that Bernie and The Squad have wanted and more shrill voices have demanded. Despite losing the center, the radicals and the Coasts will reinvest in reinvention. Expect a great deal more youth energy volume and mainstream content.
This is the best scenario for the projects of the alienated brains of our society. They will be forced to take more concrete steps to defend civil liberty and they will be much less tolerant of wild-eyed rhetoric and nihilism.
Trump Wins - Democrats go Pink
Donkeys: Biden, the last straight white man, will be excoriated from stem to stern. So will his American Gothic partner, Nancy Pelosi. The new face of the Pink Democrats will younger, colorful and social-mediagenic. And they will be hella socialist and hella woke. How could they not be? The demands of the Woke Mob will accelerate and increase in volume. The streets will get bloody and foreign money will find its way into rebellious American hands.
Elephants: Trump will come unglued and even more bodacious, provocative, reckless and tyrannical. All of his retired first-termers will have their John Bolton moment and then disappear. The first actual terrorist event will be enough to turn America inside out.
This is the most doomsday-ish scenario. Extremists will become more powerful and less ignorable. Some real serious swipes at the Electoral College will take place. Maybe even a Constitutional Amendment to limit presidents to a single term.
—-
The risk of this entire picture is predictable. A Trump victory in any case means his corrupt and mendacious influence is directly empowered by those institutions he controls. America runs by breaking rules and twisting institutions.
I don't see any scenario in which 'normal' can be expected. The Woke Mob has shanked Western Civilization and the infection is chronic. As for me and folks like me, the prospects are dim. We will find shelter and keep our powder dry.
The Next Integration
Sooner or later we will grow weary of political and violent conflict. Calmer heads will not prevail for a while. That is because calmer heads will only have access to the same avenues of power and influence they have ever had. No media heads will roll. They will report every tragedy all the same. People will simply seek shelter from and truly experiment with new ways of getting along. It will be like the 70s all over again. New crossovers, new integrations, new Archie Bunkers trying to make sense of it all.
Times like these make me wonder if I am being wise or cowardly by not standing in the middle of the road and trying to stop the runaway trains of illogic, panic and desperation I have been dodging. I'll just have to wait and see what the new political mainstream will become.