Discover more from Stoic Observations
Discovery, humor & reason without ideological baggage.
Over 3,000 subscribers
In Search of a Dying Ritual
When I halfway joined the Catholic Church, I was instructed in the Sacraments. The one they never much talked about was 'Extreme Unction'…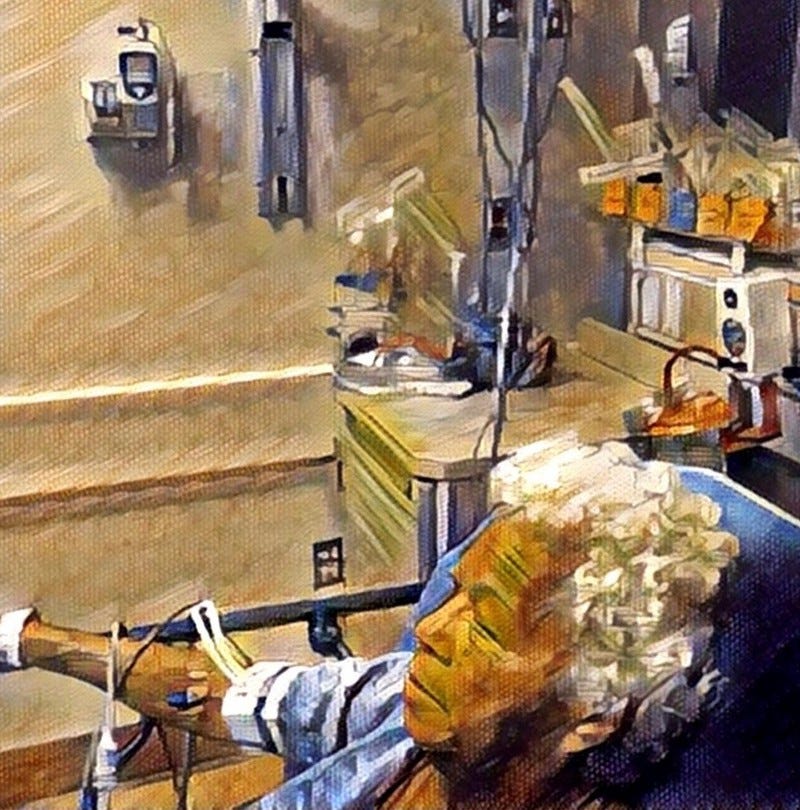 When I halfway joined the Catholic Church, I was instructed in the Sacraments. The one they never much talked about was 'Extreme Unction', and I think that was partly a Vatican II thing, but also because we were kids. It has long been a matter of note, as a 'critical theorist' dealing with this thing blackified scholars call 'native alienation' that the American slave was robbed of various cultural practices of their homelands and this was the greatest burden of slavery. After all, farm work is still farm work. Nevertheless, those Africans were not the only immigrants who were compelled in varying degrees to be sure, to abandon their native cultures.
What have we lost? Surely every human society has dealt some way with the death of parents, and yet we've kind of 'Golden Girls'd our way away from it. We never hear from Joan Rivers until boom she's dead. And we call what she said last, 'crazy'. But who then is supposed to tell us if our society has gone bonkers? How have we managed to say that's all the province of naive children? That's conventional wisdom and it's not wise enough.
A friend of mine has been telling the tale of his father's recent suffering and oncoming demise. His old man was hospitalized and found himself with an oxygen mask keeping him alive in his bed. I didn't say so before but when he reported that his father in a fit of pique shouted "Take that damned thing off of my face." it made me crack up laughing for its pure indignant attitude. Then again, I'm halfway Catholic and my responses to suffering is not generally understood on Television. But I too have had to deal with the failings of my 80+ year old parents, which is at turns amusing and pathetic.
I know I will have to bury them. They are my children now. Sometimes I sit them in front of the TV to keep them out of my hair. I am accommodating their special diets, and I have to on occasion keep them away from the stove. I help them use the phone. I help them mind their money. I love them just looking at them, but damn sometimes I wish they could understand my full sentences. It breaks my heart to watch them cry or suffer. I hear it when they call me just to talk.
I don't know when and where people talk about this. I speak like a writer often, just stating the obvious and blurting out what nobody talks about. I remember my first 'corporate America' job and realized how few people in the mahogany row had the discipline and integrity of my father. So I watched people look at me strange when I'd say how certain business practices would never fly in my house. Or say "I know how my father would deal with Mr. R". But we were all supposed to have nuclear families, right? Nobody knew Mike Brady's dad, or Steve Austin's dad. I guess that's why I had a special place for Endora and Doctor Bombay.
It has been my unfortunate privilege to have two of my brothers suffer untimely deaths. It has been my solemn practice to ingest some of their character and carry it on. The world still loses them, but I can act in appropriate remembrance. With my parents there is nothing more to ingest. I already am them in ways I discover with each passing hour I spend with them. And I reconcile it somehow when they themselves are not themselves because in the end, nobody living can accurately represent their own past, much less the past of the dead. Maybe computers will tell us what we exactly said and looked like, and we will deny it because we will have to reckon with consequences and machines do not. Obituary writing may become outsourced to AIs, and we won't care. It's what we loved that matters, and finally it's gone from this earth.
There is never enough time. So we may as well waste some just watching and listening and loving what we can, while we can.
Is that what we've lost? The ability and the ritual to shutup and pay attention to the old and dying? Well, that's what I'm saying today. I know we can't fix them, and they're going to die in some unexpected way, just as we have to admit we're all born in some unexpected way. But we have a set of rituals and performances to dignify those unexpected inevitables on the baby side of things. On the geezer side, not so much. People pretend to know the moment of the magical glint in the eye that presages the loving work of bringing new souls into the world. So we may pretend to know the moment of the gloaming of the eye as old souls ramble off into the darkness. But what to do in the meantime is a mystery. Perhaps we need to expand our vocabularies. I'll call this a start.