Discover more from Stoic Observations
Discovery, humor & reason without ideological baggage.
Over 3,000 subscribers
Pantone 448C & Me
Visualization and Social Wreckage
Several years ago I speculated that America would be a much better place when men stopped being metrosexual and engaged in wearing beards. Sometime around that concept in my mind was the positive development that the Boston Red Sox won the World Series and beards came to be. It wasn't quite enough, so I moved the goalposts to the American Presidency. Yes. I want somebody in the Oval Office who looks like one of the Smith Brothers. Alas we got hipsters. Eww. Part of this anguish was put upon me in recognition of the fact that I had to buy a new jacket for my daughter's graduation, and in the process of getting fitted I found retail outlets were mostly making clothes for skinny bitches. What is a man in full to do?
This morning's woke drama involves cigarettes, football and video. The Guardian UK says that after implementing a 'plain wrap' campaign, the sales of cigarettes plummeted by some 20 million in the first month. Not knowing what percentage this is of UK consumption I can only be emotionally impressed, and so I am. The plain wrap does not allow manufacturers to use their marketing genius to appeal to basic human instincts via the psychological phenomenon of transference of positives. You know how this works, show happy, attractive people on the packaging, and whatever is inside the box must surely make you happy. In fact just the reverse was demanded. Cigarettes must now be sold in government approved shit brown packages, with a twinge of sickly green along with a number of frightening suggestions. I shit you not.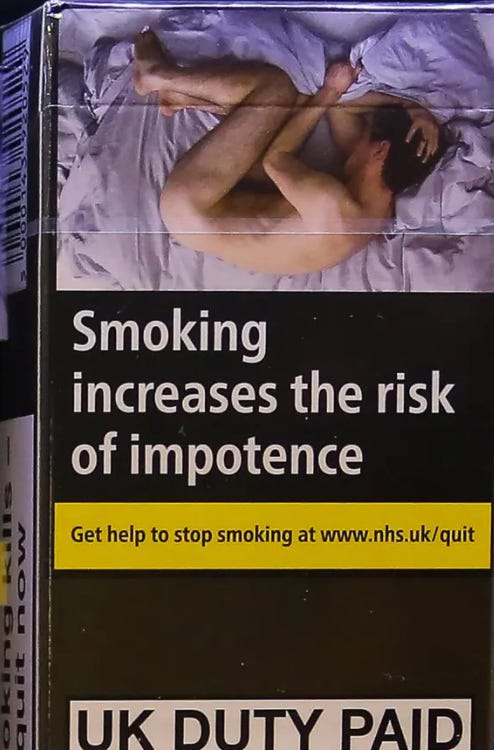 How Yoko Ono. Lovely.
The mandated primary thematic color, Pantone 448C according to marketing consensus, is the ugliest color in the world. It can't be far off. It reminds me of what powers exist to change the values and associations of millions of consumers. Consumers is what we must be for a good portion of our lives. Even buying sin is no longer fun. Chalk one up for living in California, for the moment.
Consider that you might consume entertainment like football. In today's headlines the Team Formerly Known As the Washington Redskins are in a marketing limbo owing to the new multifarious and leaderless regimes of racial adjudications. And while I don't quite know what to make of the recent Supreme Court decision on the lands in dispute roughly half of the state of Oklahoma, I can't see things getting better for anyone before they get to this kind of extreme. As for the Redskins, I suggest that they keep their name and simply change their mascot to a potato. Alas, it would cost them just as much to change all of their logos and marketing swag, so they may as well gamble on a new birth of freedom since their civil war is lost. How about the Washington Founders? You know, just to see how long it would last.
It occurs to me this morning that while I wasn't one of the untold zillions that watched St. George Floyd die in high definition I'm probably not a reliably emotional source. So take my next suggestion with a couple grains of overpriced Whole Foods branded sea salt. As vulnerable as we are to deep fake video and as beset as we are by a new rascally tribe of 'Mask Truthers', we might be better off as a nation if at some point the 4K THX recorded death of a COVID sufferer goes viral. I realize at this moment that I am still hopeful enough of human reason that I won't volunteer to fake my own death for the production of said hypothetical video.
In the meantime, I imagine that I will descend to deeper depths of snide mockery and tortured sensemaking, at least until as a Stoic I observe that the spellcheckers of the world accept that sensemaking is a word. Now excuse me, I have to go take a lively picture for my lock screen.