Discover more from Stoic Observations
Discovery, humor & reason without ideological baggage.
Over 3,000 subscribers
Survey first. Talk later.
I didn't know about the attacks on Saudi Arabia until Sunday evening a day and a half after the fact. So when my friends were talking…
I didn't know about the attacks on Saudi Arabia until Sunday evening a day and a half after the fact. So when my friends were talking about Houthis, it sounded to me that this was some kind of awful candy. I didn't realize Houthis are a militia group in the Yemeni conflict. So I came, finally, to Facebook to weigh in on the subject.
It wasn't my thread, but after about 50 comments I realized that nobody asked about the Houthis. Everything was about Trump, wagging the dog, 'locked and loaded'. I found myself writing what I thought should be obvious.
Or maybe certain topics deserve discussion outside of the context of Donald J Trump's personality and our emotional responses to it. 5% of the world's oil supply has been cut off through an act of wanton destruction. My first question is "Who is responsible?" Nobody else has raised the question. That's not Facebook's fault.
That seemed to shut everybody up, which was not my intent. Maybe it is Facebook's fault. I use Facebook because I get to choose my friends, and so I have 1000 or so. My friends tend to be civil, well informed and good writers. So I tend not to complain too much about Facebook, and yet that's my bubble of 1000 and I can't even get them to focus on what's important to me. Obviously if it's important to me, it must therefore be important, and Trump is not important to me. Still, I was not tempted to defriend.
So I and a friend cobbled together a survey at SurveyMonkey.com and forced the issue in terms I think were compelling. In a day and a half I got over 60 responses. You can see the results here. Not bad for someone with fewer than 300 Twitter followers. So it occurred to me that this is part of the web I want to see happen, the logical part. Give people tools so that they can vote and produce some measure of collaboration. If you want to hear more about that kind of stuff, you can watch this video I made about my Logos Project.
The greater revelation was that, this is kind of the problem with the social media aspect of the web. The famous Zen motorcyclist Pirsig put it this way.
If the purpose of scientific method is to select from among a multitude of hypotheses, and if the number of hypotheses grows faster than experimental method can handle, then it is clear that all hypotheses can never be tested. If all hypotheses cannot be tested, then the results of any experiment are inconclusive and the entire scientific method falls short of its goal of establishing proven knowledge.
This is why social media is so frustrating to logical people. Everyone is hypothesizing at once. There's entirely too much speculation. One can never fact-check and have a real conversation at the same time. Who has the patience to go through all of the threads? It's enough to make me want to quit having conversations, except with people I know never say anything that they're not absolutely certain about. That's a bubble within a bubble.
So I think maybe the way to go forward is to really ask anonymous surveys and then talk about the surveys instead of wrangling the gist of what's going on in current events within a diverse group of opinionated friends and onlookers. At the very least we have the focus of the survey itself. Combine that with the people who have participated in the survey and what is a shared idea or concern becomes immediately evident. With the results of question 4 for example, it is clear that most people want the US to do little or nothing besides talking nicely by condemning the attack.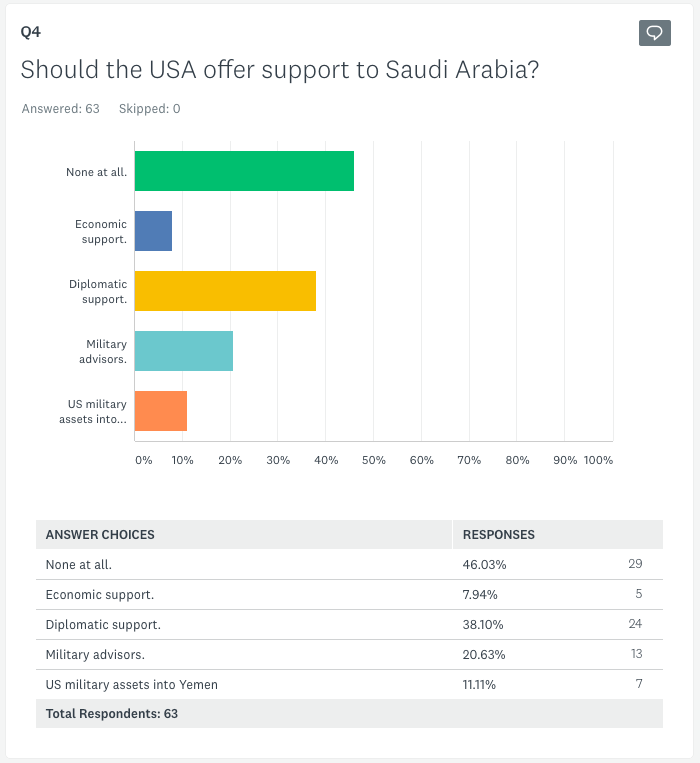 That makes conversation a little bit clearer. We won't have to waste much time discussing what the benefits are of a large variety of options. But consider the question of responsibility. That is a discussion that could go on forever. How long would we spend time hashing this back and forth considering what people believe to be true?
It took an average of about 105 seconds for people to fill out a ten question survey and I had about 29 responses in the first hour or so. I think this is fundamentally going to change the way I participate in controversial debates on Facebook and Reddit from this point forward. I believe it will make my online discussions more efficient even though they are all hypotheses that are not fact-checked.