Discover more from Stoic Observations
Discovery, humor & reason without ideological baggage.
Over 3,000 subscribers
The Great Indoors
Adventures in Pandemic Land
I moved into my new digs about a year and a half ago. Like many Americans, I'm a renter in an economy that has ruthless requirements for pre-existing equity. As in I live in LA, enough said. My family is stuck with me in our relatively palatial joint and it has made living through the past six months of lockdown quite tolerable. Although we do get on each other's nerves, there are three major new things the four of us are doing to maintain sanity and by far the most successful of these is cooking.
Cooking
The first thing to know is that I am handicapped when it comes to cooking. Both my mother and the Spousal Unit have been historically averse to having my incompetent butt in the kitchen. But for the past 18 months this has been less the case because at long last the both of us can fit there at the same time. I am supremely confident in what I call physical cooking. That involves just throwing various combinations of unadulterated foodstuffs together like peanut butter and jelly. Chemical cooking, at which the Unit excels, involves deglazing sauces and other subtle transformations of ingredients that send me running to the encyclopedia. Occasionally she can pull off alchemical cooking in which ordinary leaden food is transformed into culinary gold. What she does with fried corn goes beyond belief.
However, by the quirk of fate and tradition, it turned out that my mother had no interest in getting out of bed early on the weekend. So I am fairly proficient at managing a traditional breakfast. Over the years working at home, I have improved my lunch skills. Outside of grilling meats, I'm still a piker at dinnertime. But I am three years into being more than an ordinary barkeep. So I give you two of two favorite drinks, one of which is original and the other from a magnificent hangout in New Orleans.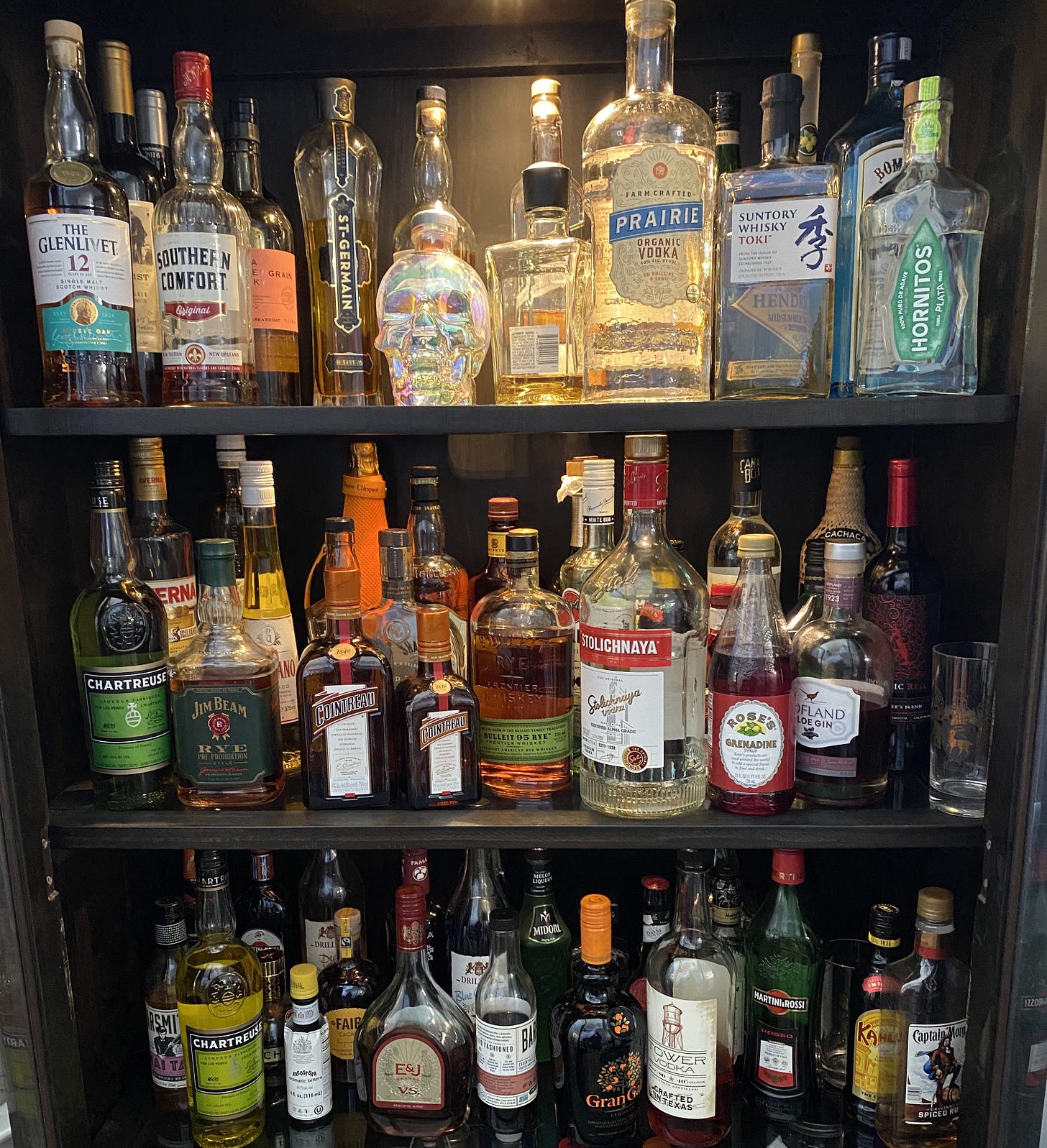 The first is called a Holy Cross. I have reverse engineered it, probably not to perfection but to a reasonable approximation of what I considered one of the most marvelous yet simple concoctions I've ever sipped.
Holy Cross
0.5 Suze 

1.0 Averna Amar0 

1.5 Bulleit Rye

Sprig of Rosemary
It's not easy to find Suze, but definitely worth it. The second is my own creation, looking for something tall and summery for the Unit and the girls. It's one of the endless variations of a Tom Collins, sweet but not innocent. What if I tarted up a Shirley Temple? So I called it the Dirty Shirley.
Dirty Shirley
0.5 Southern Comfort

0.5 Sloe Gin

0.5 Gold Rum

1.0 Fresh Lime Juice

1.0 Triple Sec

1.5 Cranberry Juice

3.0 Sparkling Water
Drop off a strawberry in the bottom of a tall glass and serve that one up. Perfection. Not too sweet, not too devastating.
—-
Puzzles
Next in line behind cooking is puzzles. We have completed a couple 1000 piece jigsaw puzzles. I've come up with a system that helps the overall. I'm not a big puzzler myself. When I was a kid, my mother got a 1000 piece circular puzzle of the skyline of Chicago. It took all summer for me to put it together. It brings back memories of hot stifling weather with no air conditioning, folding clothes for the wash on the living room couch and Katheryn Kuhlman on the radio. Agonizing boredom. So I have managed to restrain my enthusiasm for puzzles, but it's definitely a better alternative than bouts of incivility on the interwebz. This pandemic season we've put together both with a theme of books. My system is to take the edge pieces and organize them systematically.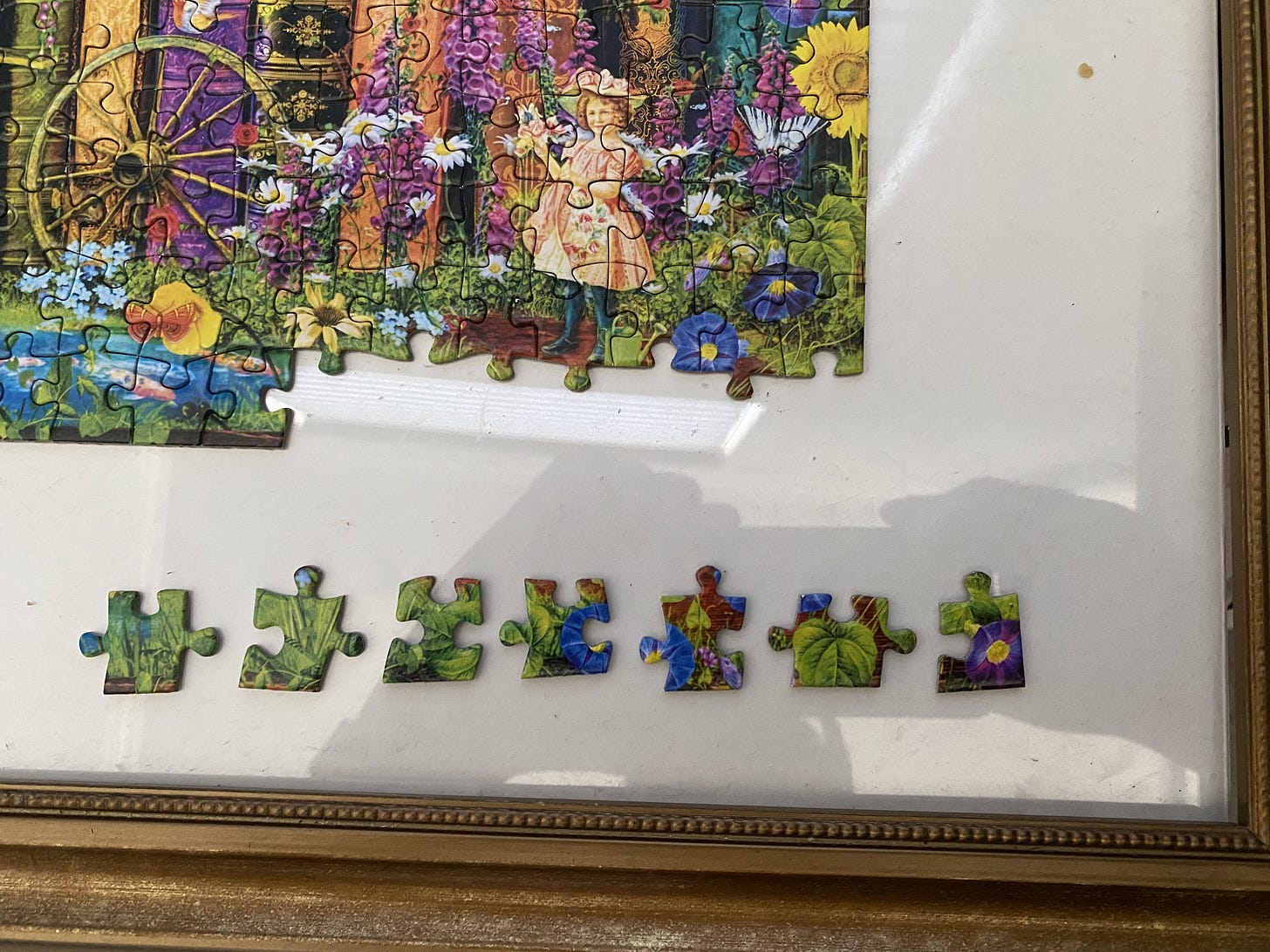 From left to right these pieces have the following names, which are kind of obvious, but how many years have they gone nameless? A double, a backwards C, an angel, a K, a C, a headless horseman. Not shown is a backwards K, and the corner piece is so rare as to not need a name. Sorting these all out ahead of time makes a big difference. Try it.
—-
Music
One of the things I will be doing here on a weekly basis is as promised, music discovery. I'll be doing that with three people whom I now regularly depend on to take me places I've not been before and places I know but revisit with fresh ears. They are:
My regular on music will be subtitled 'Now Hear This' and on Cooking and bartending something like 'Now Eat/Drink This'. Corny but effective. Here's what has really been blowing up my ears this week.
First off, if you haven't heard, there's a new remastered super deluxe release of Prince's Sign O The Times. It's an 8 CD box set. It includes the never before heard collab with Miles Davis who is immediately recognizable. One thing Prince never did enough of was real horns, and what a pleasure to hear a horn arrangement of The Ballad of Dorothy Parker. But the current little gem that I can't get enough of is called Cosmic Day. It's so energetically Prince and sounding like what he might have done back then, but then why not? It's clear to listening to the remixes that there was a very particular sound that he was interested in getting out there, a great deal more spare than he might have gone. Also listen to Walkin' in Glory, the next track, and you will recognize the bass line from the Black Album's 2 Nigs United From West Compton. Surprise!
In my mode of Rock Recovery, I listened to a whole bunch of Billy Joel that I ordinarily would ignore. I had Zanzibar in mind, because the uncensored lyrics were repeating in my head. Only Laura from the Nylon Curtain struck me anew. What a great Beatles tribute.
Having listened all the way through this podcast with Tyler Cowen and Alex Ross, I learned more about Wagner than anybody ever bothers to talk about without breaking Godwin's Law. Very useful. Unfortunately, I was unable to find anything so interesting to listen to. I sense that getting to Wagner is going to be a challenge beyond the ordinary appreciation of Mahler. Well, it's going to be a long pandemic.
In the meantime, I'll be scouring for the best of the Future Sound of London, a new band to me for which is a good balance to the Boards of Canada. If you have any suggestions on food or music, please let me hear from you.