Discover more from Stoic Observations
Discovery, humor & reason without ideological baggage.
Over 3,000 subscribers
The Primal Life
What are we supposed to do with our bodies?
The meaning of life is to create and protect life.
About a decade ago, I was in search of what I called the 'dosh point'. The dosh point was that moment on the curve of my net worth at which I will have achieved a measure of financial security - some ineffable plateau of satisfaction and capability. The dosh point also has other names, the most common of which in my industry is called 'fuck you money'. I learned that I didn't need fuck you money so much as I needed to tell specific people and situations in my life, fuck you.
This realization made it clear to me that part of the aim of attaining the dosh point is to declare independence from the network of connections one spends a lifetime attaining and exploiting. It's rather like a trial by fire that you expect to end one day. You put up with it because you expect to get above it all. You live your life for the liberated future, so you put up with the slavish present. It turns out that this is a very difficult thing for someone like me to do. I like to live in truth, knowing that Truth serves no man, I still prefer it to conspiracies and omerta. I don't like bending the knee and kissing the ring. I don't like coercion. I don't believe in karma, but I do expect equal and opposite reactions. I discovered this mostly by chance - they say chance favors the prepared, so perhaps it was inevitable because I go there.
So I have been living much more in the present, in the now, flowing like the water Bruce Lee describes. Like the Ghost Dog. Since I avoid stupid people in stupid places doing stupid things, I haven't had to prove myself. I haven't had the necessity to demonstrate an iron will. I have learned to be forgiving and generous. I eat last at the picnic. Nevertheless, I am engaged in a profession that changes rapidly, that seeks to disrupt and displace. People fear the robots they believe people like me create. They think we're all going to need Basic because of all the AIs that Silicon Valley will build. Yes the Valley will build them but only the elites will come. Let me explain a bit.
I am convinced that there is a class of elites who have mastered the art of achieving the dosh point. From that point, many of them make some sign they have arrived. For me, the sacrament was fairly simple - a Rolex Explorer II, Porsche GT4 and a large house in or around Pasadena, CA. These Scooby Snacks are just to my liking and I might have done any number of unpleasant things to accomplish them. I know, however that the wooden desk I am now seated in front of works exactly as well in this house as that one in Pasadena. The watch I am now wearing keeps time exactly as well as the Rolex. There is a great deal to be said, and probably must be said with stiff upper lips, about the superior quality of the luxury items available for those with the ducats, but a diamond encrusted swimming pool doesn't make you swim any faster or less likely to drown. I spend quite a lot of time thinking about why so many billions are to be spent on 5G when I can do everything I can think of with 4G. It's called progress, yes I know. We can all be sold into these economies of seduction. Indeed we pay a great deal of attention to all sorts of economies, but should we? Are they really for us, or are we jumping up like hungry dogs for the dangled Scooby Snack?
I say all of this (sorry if I went on a bit) to explain something about the mental treadmill we are on or maybe just getting off. This has us unprepared in many fundamental ways for the economy and society that might be heading our way.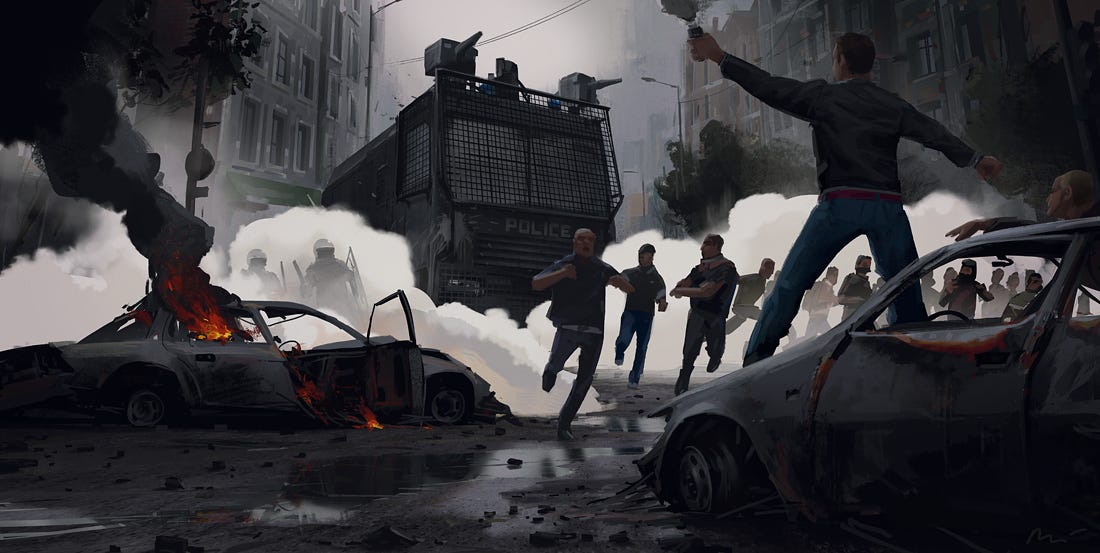 The other day I decided that my morning run would be the most important thing I do that day. I've been that way about my health for a while. This morning, however I laid in bed and watched this video. It tells the story of an American who went to Tanzania and lived with hunters there for many weeks. The people there run every day. They cannot eat otherwise, their prey would escape them. We are distant from that life, emotionally, physically and intellectually. There is another video that has captivated my imagination. This one from Kenosha, WI. It shows several angles of a rifle shooter captured in several acts of rather extreme violence during a riot. We are distant from that life as well, but we have a much better chance of approaching that reality than becoming bow hunters chasing baboons with dogs in the bush country.
What are we supposed to be doing with our bodies?
I will continue to raise this issue over time. It is possible, and perhaps it is necessary to ask this question in depth and rethink whether or not we are going to know this before we die. I am no longer interested in reproduction. My runs are not aimed at making me look sexy, yet they are, and maybe I'm just kidding myself. I already have three children. Now what? Look within. Ask yourself. What are you supposed to be doing, because thinking follows doing. It's a primal feature of our biology. We are bipedal apes. What is our physical purpose?
For the past three years or so, I have been watching two kinds of porn with this question in mind. I have been watching MMA with quite some understanding of what the sport entails. I find it fascinating. But I have also been watching something called fightporn which is found video of street fights of all sorts. Like most political people I have watched the 'mostly peaceful' Berkeley Antifa riots, the current rioting in Portland and the latest in Wisconsin, but also I've watched hours of the Yellow Vest Riots in Paris.
Are we supposed to be putting our bodies into the conflict entailed by our mind's convictions? Should we moderate our thinking so that we have no enemies anywhere? What if it comes down to you? No flacks, no fans, no cops, no militias. Just you. Would you have the courage of your convictions? I ask myself this all the time. Tough questions.
What if this pandemic recession forces Americas to quit trying for the dosh point? What if they decide to turn to their fellow Americans and say 'fuck you'? I know what it looks like. It's as if I've seen the future, a possible future. and most of us are not prepared. Specifically, we are not prepared physically. What are we going to do with our bodies?