Discover more from Stoic Observations
Discovery, humor & reason without ideological baggage.
Over 3,000 subscribers
Virtual Team Success: The Ideal Status Report
Culture + Tools + Methodology = Virtual Team Success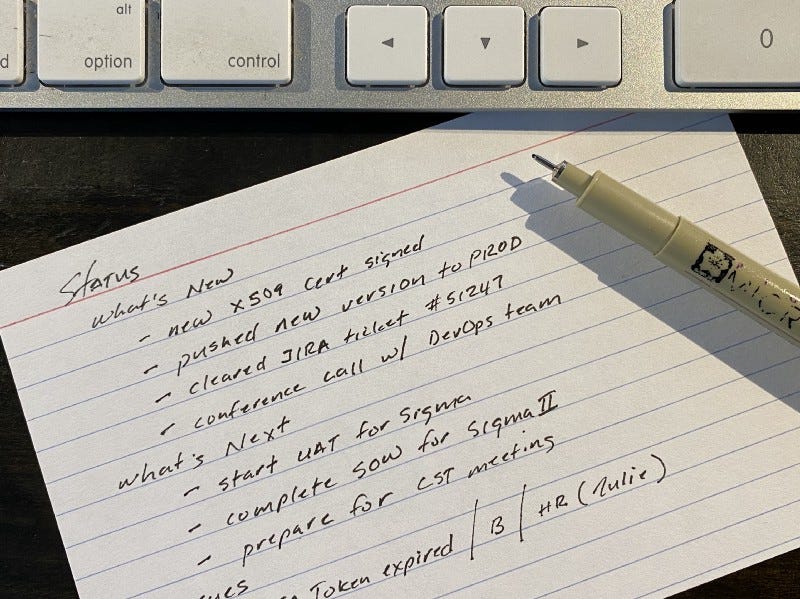 Culture + Tools + Methodology = Virtual Team Success
In our continuing series, we talk about how to structure an ideal status report and an ideal status meeting. As a traveling consultant, I've had to do these for years, and sitting in 10,000 hours of meetings, I can assure you that they work and they are just enough but not too much. In a virtual business environment, the clarity of this status report will allow you to be crisp and concise. Even over Zoom. Simple. Effective.
The three to five whats
The core of a status report is only three whats. The core of a status meeting is five whats. But depending on how familiar your people are with what's going on, you might want to include one or both of the other two. The bottom line is that the status report, and thus the status meeting is all about telling people what's going on. So let's get to it shall we? First the list:
what's up

what's new

what's next

what's wrong

what for
What's New (Work Done)
If you do nothing else in your status report you must do a what's new. This essentially says what work has been accomplished since the last status meeting. You should report on what you did in your assignment. If you were on vacation or got sidetracked, you should state that as well. If there was something you didn't do but expected to do, mention that as well. In a perfect meeting, this will be known ahead of time, or displayed for everyone to see.
What's Next (Work Not Done/ Work To Do)
What's next is what you expect / plan / hope to do before the next status meeting. Easy. 80% of the time most of the people in the meeting will not have a copy of your prior status report. So if you feel bold and you are prepared to promise a lot, then go ahead and promise a lot. But remember the next meeting when you have to say what's new you will be evaluated. It's great to make all of your deliverables, but you're going to mess up. Don't tempt fate and try to impress people. Also don't over-promise out of guilt for not finishing up the first time. You will get better at this over time. You should have a good understanding about what the priorities are for in your upcoming work. If you don't know or aren't sure of your team leader's priorities, find out.
What's Wrong (Issues)
Here's where you get to do a little bit of explaining, but keep it very brief. If there are new issues with old problem, or you are waiting on a dependency, this is the place to put it. If there are no issues, don't leave 'What's Wrong' off of the report. Actually state that you have no issues. IE write 'None'.
This issues list is a special part of the report and requires a little detail. You want to make sure that you have an idea what the problem is. "It doesn't work" is not quite good enough. If you know something is wrong but you don't know what is causing that problem, you should state the problem something like this. Depending upon whether or not you have a formal issue tracking system like Jira or Trello, your issue should have a number or a date associated with it. The What on this shouldn't go too deep. Just identify the issue, the priority, and whose help you need to resolve the issue.

Issues with some detail
While we're at it. It helps to get some perspective on what's wrong. Think of the severity in the following way.
Issue
This is something that you or your team would normally be able handle on your own, but something went wrong. It's an issue because it might affect your budget, schedule, quality, or deliverable. It's something that can be worked around, but ultimately needs fixing. Maybe you think it's a small low-priority issue that might wait until the next status meeting to on the chance it can be resolved before then, but don't make that gamble. The last thing you want is for it to become a problem, and then people start asking who knew what and when. Deal with issues before they become problems.

Problem
A problem is something you can't solve and cannot be worked around in a short amount of time. It compromises your intent, and/or your standards. You don't want to let it remain. A problem often requires an uncomfortable conversation, but it also may be swept under the rug. That could lead to trouble. Deal with problems before they become trouble.

Trouble
Trouble is when the consequences of the problem are costly. It's more than just a black mark on your record, it involves people you are not usually accountable to, like your boss's boss, some powerful authority, or many, many people. You don't get out of trouble without pain, and unlike problems you don't get props for getting out of trouble. You merely survive, if you do.
These examples might help you categorize what's wrong. Check out their particular contexts.
"I have an issue with this stupid keyboard."

"Our customer keep bringing up issues about the fonts on the inventory website."

"The problem is that I cannot get started on the project because we're waiting for my security sign-off."

"If we don't get this insurance problem resolved by next Friday, we're going to lose our certification."

"Our security guy quit and he changed all of the passwords to the database. He's in trouble, and so are we."

"We've got trouble. The contract fell through and they just issued a press release about layoffs."
In all cases, anything that surprises you needs to be brought up as an issue in your status report. This puts you well on the road to accountability and transparency. Plus, you set a good example for everyone else.
Next up we'll talk about the ideal status meeting and a methodology for handling issues, problems and trouble.