Discover more from Stoic Observations
Discovery, humor & reason without ideological baggage.
Over 3,000 subscribers
The Truth About Black Conservatives
And a brief retrospective about the Conservative Brotherhood.
Black conservatism is in the news. I guess people have gotten a little tired of banging their heads against the same walls. I read a couple of pretty good sources. UnHerd, Aero, Persuasion. This time for the second time in a row, Aero has driven one good nail flush. The prior time was Matt McManus described what most Americans (including me) don't know but should have known about the conservatism of Michael Oakeshott. The TLDR on that is it is classic liberalism without scientism or a soul killing meritocracy. IE respect for the wife and children of the man who is ready to die on Mars, when they'd rather stay in their home on Earth.
This time Samuel Kronen writes well when he says:
The ideas of Ellison and Murray reveal a flexibility in the black conservative tradition that is often missed today. Part of the reason for that is its association with free-market libertarianism and bootstrapping personal responsibility. Because the post-civil rights racial contract is associated with redistributionist policies and social programs, opposition to that contract has naturally gravitated in the opposite direction. Moreover, the same skewed system of moral incentives that generated the demand for black conservatism has led to some of its excesses. The historical and moral power wielded by the left on race issues creates a socio-cultural asymmetry in public discourse that encourages increasingly extreme positions among black conservative types—right up to denying the prevalence of anti-black racism altogether. This is a shame, because the black conservative tradition has so much more to offer than the reactionary polemics and reflexive partisanship embodied by the likes of Candace Owens. And you don't have to be black to share these views or the sensibility that undergirds them.
Those of you who are new to reading me as a Stoic may not know that I spent some time as a 'black conservative', which is a complex story I'd like to introduce you to here. Here is the simplest outline:

Starting in 2003 my aim was to put a stake in the ground and assert two things.
Given: The Civil Rights Movement is done, and won, and never going back.
Black Americans are not going to be a race forever and their class distinctions will matter more.

They need to be getting baksheesh from the American Right, not just welfare and pity from the American Left.
So I took Cobb, the most conservative sounding part of my name, registered Republican and started blogging about what the black Right was, is and should be. In the beginning, I started going to local Republican functions and discovering all of my stereotypes etc. I made efforts to understand the American Right and distinguish its various parts and pieces. I was very surprised at the diversity of black opinion on the Right. I never expected pure Christian social conservatives. I never expected pure Pro-Life advocates. I expected a lot of buppies and people like Vernon Jordan. I was wrong. Since my blog was fairly popular, I was able to meet with and invite all of the major black bloggers on the right. They all signed up. But some left after a short period, notably LaShawn Barber and Ambra Benjamin.
My aim was to identify and name the Old School black politics, culture and values that I had always heard had a 'natural' affiliation with the American Right. So I came up with some words that I figured a broad cross section of black Americans could deal with. My own insight and research kept telling me, some fraction of black Americans were always comfortable voting for local Republican candidates, and basically their biggest problem was the racism of the GOP vis a vis the Southern Strategy. So I'm like, OK let's be black and proud conservatives with no racism and see what happens. A lot happened.
Thus the Old School Core Values: The Conservative Brotherhood is a group of African American writers whose politics are on the right hand side of the political spectrum. Expanding the dialog beyond traditional boundaries, they seek to contribute to a greater understanding of African Americans and America itself through advocacy and commentary.
Old School Core Values:
Pride
We are African Americans of all backgrounds and ethnicities. We are proud of our heritage, and respect the lives, triumphs and tribulations of our forebears in this country and beyond. We aim to represent their greatest hopes for us and honor their memory.
Patriotism
The United States of America is our home, not simply by default but by choice. We take our duty to our home seriously and we defend it. We seek to improve it by our work and values and leave it better than we found it.
Family
We are extended families and we put family first. It is the primary organization to which our lives are dedicated. We fight for the proper upbringing of our children. We demand respect and consideration of our elders. We love and support our brothers and sisters.
Industry
We work twice as hard and sometimes get half as far, but we work with dignity and we expect and enjoy our rewards. We are not materialistic but we know the value of a dollar. We seek self-improvement through creativity, dedication and effort in our jobs, businesses and partnerships.
Piety
We have abiding faith in God and the principles of righteousness. We strive to be true to transcendent values and take the long view of our purpose on Earth. We conduct ourselves as vessels of spirit and we guard our own souls and the souls of others from corruption.
Liberty
We believe in the rule of law and rights of people to be free and to determine their own fate. We fight tyranny and oppression of all kinds keeping in mind the battles of those who struggled and died that we might be free.
Pluralism
We believe in a tolerant and open society, and we welcome all people to enjoy its benefits and responsibilities.
—-
You would think that such a simple set of reasonable principles would stand TCB in good stead with the American political mainstream. What the average American is experiencing today with regard to uncivil discourse was what we ate for breakfast 15 years ago.
A friend just messaged me about the graciousness of Coleman Hughes' characterization of Candace Owens. I told him that Candace Owens is playing the internet media game more successfully than any of her predecessors. There is simply no place for level headed, non-shrill people like me in that game, and believe me, I had national exposure. Hughes and McWhorter alike are well-suited for the sedate verbiage of think-tankery and academic journals. They are both junior to Glenn Loury and will happily admit to his grand parentage. But Glenn Loury takes no prisoners and suffers no fools, and Stanley Crouch is dead. Everybody likes to pretend that Clarence Thomas is an inscrutable madman. There are just lots of blacks on the American center and right that our broad chatting class has no place for. It doesn't surprise me in the least that IDW-style outlets are where these folks are finding a way to speak out. Not that they've been quiet.
When I say 'everybody' with regard to Thomas, I have a difficult time making a reasonably dispassionate description of this misled and ignorant collective. They might be all characterizations that suit the audience of NPR and want commentary from the likes of Kendi on one hand and Chuck D on the other - stereotypes we all accept as legit in today's acceptable political 'debate'. I think most people in the IDW have a better grip on what Eric R Weinstein call the Gated Institutional Narrative. I have no need or desire for a racial conspiracy theory to explain the obscurity of rational voices from the black Right during these days of racial chaos. As a black Republican you instruct your dog to fight with fighting words, and so I used to.
When I look back at what I considered a callow betrayal of conservative principles by nominally black conservatives at the nomination of candidate Barack Obama, I now see differently. In many ways, Obama was and remains Old School. Ultimately it is the matter of his personality, which while quite glad-handed as the best of politicians are, there was much that Old School black Americans on the Left and Right could see that the political mainstream overlooked. That is, in particular, the extent to which the black American professional and upper class recognize a striver when they see one. When you drill down on Industry and Family in the Old School Core Values, you should not be surprised when you see supporters of Kamala Harris pay their respects in such reverent tones. As I think about it for a moment, there is very little of the old Kweisi Mfume in either of those younger politicians, and Mfume was the kind of principled firebrand that addressed black American mainstream concerns in his heyday in a way neither Obama did or Harris ever will. These days I say that in the larger scheme of things, politics follows culture, and it remains the Culture War that sets and keeps our politics on fire, burning out of control as it does. We the people are a bad polity because we the people are far too glib - we haven't quite remembered how to keep our heads while not suffering fools. It wasn't then, and it isn't now about conservative or liberal principles. It has been about having our man in charge, the ultimate tribal validation.
As long as that remains to be the case and the mendacious identity politics we Americans suffer remains bankrolled by the advertisers who can stomach the middle school theatrics of the Fourth Estate, the details of our black conservative thought will remain an appendage to the politics of black rage. Same as it ever was. We of the Old School are merely a respite from the extremes the Left and Progressives are slightly ashamed of. Yet we are now central to rationality of the IDW, not as tokens but as grandfathers. We retain and re-cultivate our jazz genius, and it cannot die or be imprisoned like so many gangsta pop stars.
What is the jazz genius of the Old School? It is something that has actually transcended the Peasant class. But even as it proves its own merit, it sits on the deep bench of the American meritocracy, sometimes forgotten, sometimes played.
—-
When I think about black conservatives today, I am reminded about how ill-served principled conservatives are by the Republican Party which is in a profound state of stunned silence. Not that I am listening carefully, but only Douthat and Carlson seem to have their wits about them. But the best things about conservatives have always been their respect for their elders - and their erring on the side of continuity against the rashness of the revolutionary. Their understanding that perfect is the enemy of good. When it came to black conservatives' aims for America it was that continuation of racial integration in the spirit of MLK. You heard and will continue to hear it over and over again. Character. Values. Patriotism, and yes cooperation and collaboration.
I've written about it before and it bears repeating. Just as the early Christians understood how they could not monopolize the law in Roman society, so black conservatives understand how to thrive only having limited rule making power by leveraging social capital, or what Cornel West calls the prophetic tradition. Even the bombast the likes of Candace Owens must needs blast, what can she call for but reverence for the Old School? If she or anyone is to be a conservative, specifically on the matter of color and identity, we must go back to making our orality become like music, which is the irresistible force that passes through immoveable objects. Black conservatives know every day that they do and must make common cause by virtue of values and not by skin color, or any of the other Progressive pet dimensions. In that connection is a limited set of prizes, because after all as conservative civil libertarians don't demand the Imperium that Republicans covet. We civil libertarians want the quality of our values and our lives and our character to matter most in society - not merely citizenship in the Empire as if we were all to be Starship Troopers. This is one of the things has made Trump the American caesar; he exploited the Republican desire for a zero sum power struggle.
So if you look for black conservatives and whatever bedraggled black Republicans remain, you'll have to ask them who they are and how they came to be. It's not an impossible conversation to have, but I imagine most Americans have no idea where to start. I happen to have years of daily archives I'm happy to share. I'm happy because the contemporary political dumpster fire led me to Stoicism, but long before that, I understood out front, like all black American conservatives understand that you can and do win by transcending race. While there are a minority of black conservatives who have desires for the GOP to craft a special message for black communities, the overwhelming majority are that message, with their lives as proof of not having to live with a racial double standard. There is no affirmative action for black conservatives. There never was. They are all self made. Think about that for a moment.
—-
I'm going to end on a long note, because I think it's unlikely that I'm going to spend a lot more time on this political subject. It's not something I want to do, although events may conspire to inspire me to again. So you can hang up now, or get a taste of the kind of thing I used to write - this from seven years ago:
Your Black Republican Problem is Not My Problem
Ishmael Reed wrote in the NYT:
The Republican Party was influenced by the abolitionist Liberty Party, whose leading lights included William Lloyd Garrison, Susan B. Anthony and Frederick Douglass, who latersaid: "I recognize the Republican Party as the sheet anchor of the colored man's political hopes and the ark of his safety."

Likewise, in an 1872 letter to her fellow activist Elizabeth Cady Stanton, Anthony wrote: "I shall continue to work for the Republican Party ... for what the party has done and promises to do for women."

Why can't that emancipationist sentiment return today? The original Republicans were born from a challenge to the far right — Lincoln gained influence by criticizing the Know-Nothing Party, the far right of his time. The same could happen today, gaining millions of adherents tired of the right's racism and the left's big-government stereotypes. Call it "neo-Classical Republicanism."

The door is wide open. As Mr. Obama's critics on the black left have noted, blacks haven't benefited from his presidency as much as other factions of the Democratic coalition. He's less of a Malcolm X than a Booker T. Washington, who would have endorsed the president's belief that "a rising tide lifts all boats."
The Republican Party I know is playing three games. The first game is the Washington game of winning and spinning. It takes whatever power it has and can wrangle to get its way inside the Beltway. That results in just what you think it does. These are the Republicans of Boehner and company - they are who they are - lords of influence, power brokers, men with no time for nonsense. The second game is the game of money and votes. If you are local, your job is find out where the money is, get that money. Money means the guy who owns the Ford dealership who shows up at fundraisers and charity auctions. Votes means the people who will walk house to house and knock on doors and sit at voter registration tables for hours on end every weekend. What you want into is the third game.

The third game is the game of ideas and ideology. It's about the culture of the Right. And that is a media game - an open game. Whoopi Goldberg said that TV is the one place where you can have a million followers and be called a loser. Everybody who is black in the American Right knows that there are a million black Republicans, and we all know that's never enough. The Republican Party cannot do and will not do what Ishmael Reed says because Ismael Reed is not standing up on national TV saying "I am a Republican and this is what I believe". Everything he said rings perfectly true and is perfectly acceptable to the GOP, but that's *his* way with words, backed by *his* name recognition by black Americans. It's the same way with Dr. Ben Carson, whom all of a sudden gets this groundswell of support because he knows how to diss Obama in a way that makes lots of blackfolks tingly. But every black American on the Right already knows this.

Any and every proper black self-reliance idea is baked into Republican values. It always has been, and the GOP is not hostile, but welcoming of all those ideas. It's the broad American media that is hostile and most black Americans - those who are waiting for Denzel Washington on a golden chariot - are playing right into that hostility. The ideas have never changed. When JC Watts was speaking on those ideas, we laughed at him because Chris Rock told us to. When Glenn Loury was speaking on those ideas, we dismissed him because we wanted to wait and hear him say Republicans are racist too. When Connie Rice was speaking on those ideas, we said she was sleeping with GWBush. When Michael Steele was speaking on those ideas we said, he can't win a statewide office. You name the black Republican, all of them have the same ideas, and all of them have a bullet aimed at their head a lame excuse on it. Do you hear what I'm saying? Crabs can't wait to get their claws into black Americans who climb up and say "I'm a Republican and this is what I believe." The ideas have never changed. 

Let me tell you what it's like to be black on the American Right. No, on second thought, you figure it out for yourself. Because it works for me and my family, and that's all the black I'm responsible for. Niky Mianj or whatever her name is never going to sing that song because it's an old solid idea that works for Scandinavian farmers in North Dakota, and it works for everybody outside of the cool demographics all around the world and it doesn't make you popular. Conservative values are like calculus. Knowing them only helps you solve problems, and being unpopular isn't a problem.
Did you hear what I'm saying? Being unpopular is not a problem.
Singing has always been a good idea. You can't grow up in America not knowing how to sing a Michael Jackson song. But Hollywood is the bastion of Frankfurt School propaganda and so their job is to put their cool demographics on TV singing Michael Jackson songs. So that way you get popular. I think people like Glee because it's wheelchair and GLBT friendly, and guess what. You don't get to be on national TV making the big bucks by accident. The professionals know how to make you popular - that's the game they are playing. So Glee is what it is by design. But the songs are old and singing is good. The ideas have never changed.
I don't do media any longer. I'm fortunate enough to be a part of the second industrial revolution - the information technology revolution. That's my day job - I build stuff. I used to be in that ideas game. But after a while I realized that I didn't have to come up with any more new ideas, I just had to get more exposure to the ideas I was on about. That meant playing a media game - a game I called 'Famousity'. How famous can you get? To win that game you do your damnedest to stay in the public eye saying *something*. After a while you get famous for being famous. Yeah well, my mama didn't raise me to be a media star. Everybody knows Connie Chung, but what ideas does she stand for? She's popular, that's all. 
So somebody tells me what the GOP *ought* to do to get black votes, what they really mean is somebody ought to make the Republican Party *popular* - because they have an *image problem* with 'black America'. But the ideas have never changed, and being unpopular is not a problem. 
—-
So that's that. Black conservatives are all over the place with the same basic good ideas that don't require revolution, just a good shot of Oakeshott. But they're not popular people. So some would say they don't have a chance.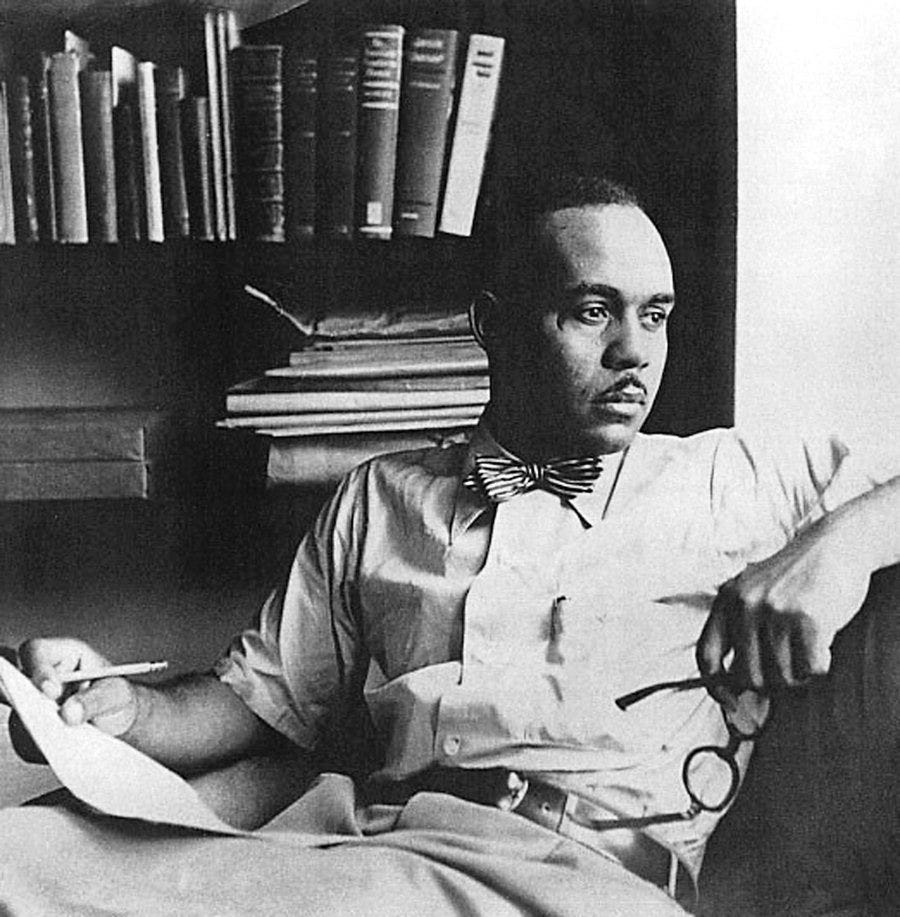 Once I saw a prizefighter boxing a yokel. The fighter was swift and amazingly scientific. His body was one violent flow of rapid rhythmic action. He hit the yokel a hundred times while the yokel held up his arms in stunned surprise. But suddenly the yokel, rolling about in the gale of boxing gloves, struck one blow and knocked science, speed and footwork as cold as a well-digger's posterior. The smart money hit the canvas. The long shot got the nod. The yokel had simply stepped inside of his opponent's sense of time. So under the spell of the reefer I discovered a new analytical way of listening to music. The unheard sounds came through, and each melodic line existed of itself, stood out clearly from all the rest, said its piece, and waited patiently for the other voices to speak. That night I found myself hearing not only in time, but in space as well. I not only entered the music but descended, like Dante, into its depths.
—Ralph Waldo Ellison. Invisible Man